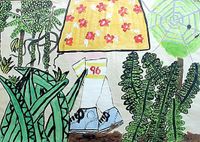 Developing environmental awareness

I have always believed that 'before the word comes the experience'. That literacy is built out of, and from, the emotional or felt experiences children have as they play and explore their environments – preferably in the company of others and, even better, a perceptive adult.
This understanding was the basis for the language arts experience that was as once such a feature of New Zealand Primary schools. The idea that early literacy should arise from children's own thoughts from exploring their environment (and their own personal life experiences) was developed early in New Zealand. Sylvia Ashton Warner first developed the idea of students writing their own books in the 50s. Elwyn Richardson, about the same time, developed both environmental poetry and prose, and personal writing, based on personally felt themes. To value children's ideas Elwyn developed a process called 'scribe writing' that allowed students to express their ideas without worrying about spelling.
These are ideas that deserve a revival in our junior classes. Such writing, based on focused oral expression, is the true basis of literacy. I believe we have rushed students into books too early and, in the process, lost the concept of the valuing of students own sense of voice and identity. Most importantly we have lost sight of the idea that children build up vocabulary naturally in the process of exploring their thoughts and environment; 'before the word comes the experience'.
Rachael Carson is another name from the past. An environmentalist rather than an educator, her ideas are equally valid. Rachael Carson's book, 'The Silent Spring,' some say, was the beginning of the environmental movement. In 1956 she wrote a small book for her nephew called, 'A Sense of Wonder'. It contains great advice for teachers and parents.
'
Exploring nature with your child is largely a matter of becoming receptive to what lies around you .It is learning again to use your eyes, ears, nostrils and finger tips, opening up the disused channels of sensory impression.
'
Her technique is '
to just express my own pleasure in what we see, calling his (her nephew) attention to this or that'
.
She writes. '
A Child's world is fresh and new and beautiful, full of wonders and excitement. It is our misfortune that for most their clear-eyed vision…is dimmed … before they reach adulthood.'… 'I should ask ( for) each child in the world a sense of wonder so indestructible that it would last throughout life as an unfolding antidote against the boredom and disenchantments of later years…
'
Another author, Deborah Meier, writes that it is:
'
The power of children's ideas that our pedagogy should centre on.'… 'children should be inventors of their own theories, critics of other people ideas, analyzers of evidence, and makers of their own personal marks on this complex world.
'
Teachers should capitalize on student's natural linguistic appetite. They should surround them with a rich sensory environment, build on their desire to develop their own self identity as discovers and sharers and, most of all, help them realize the power of their own ideas.
These are the ideas that are too often lost when teachers stick to delivering an alien curriculum.
Lots of practical ideas to help on our site
.