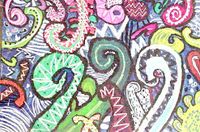 An outbreak of creativity!

Over the years the ideas I have picked up teaching and learning beliefs from my experience, my observation of creative teachers , reading and, more recently, 'surfing' the world wide web.
The most powerful of the above sources has always been my observation of creative teachers
, for it is only when ideas are seen into action that they gain any sense of reality. It is very easy to write or publish ideas, or for Ministry of Educations, from around the world, to write impressive documents, but we all know that they rarely get implemented in the way they were written. And just as well!
The
teaching beliefs
that 'we' have developed can be seen on our
website
. In particular the '
Te Ara Vision'
document.These beliefs are not original, except in the way they have been arranged. And they relate to a number of international organizations, often without any direct reference at the time. Some that come to mind are:
The Coalition of Essential Schools
;
The Foxfire Organization
;
The Big Picture Company
;
American Psychological Association Principles
; the ideas of
Julia Atkin
;
Concepts to Classroom
; and the
Personalized Learning
documents from the UK Education Department.
I am, I think, beginning to rearrange the ideas I present at my workshops and seminars. In many ways I am going back to some of the original idea I developed because much of what 'we' have had to do the past fifteen years has been an attempt to manipulate the 'standardized' ideas imposed on schools that we have all had to comply with.
But things are changing – teaching and learning has now been recognized by those in power as the important factor. This coincides with the standardized curriculums, and associated assessment requirements, becoming impossible to implement.They are increasingly seen as incoherent.
Teacher artistry and creativity is what really counts
!
So now my beliefs follow the below threads.
First the schools number one task is to develop the
passions, talents, and dreams
of every student. It is not a technocratic vision of raising and measuring achievement!
And this has to be done in a
learning community based on personal choice and democratic values
– not an ideology of selfish individualism and competition! Education has to be based on reciprocal respectful relationships not coercion.
Developing every student's image as a learner is the most basic task of all
. Every thing we do should be to develop every learner's
voice, identity and power
to make positive choices. This makes valuing students points of views, question, theories and creativity as vital. Classrooms should reflect children 'voice' in their poetic and research writing and in their art. Every thing should celebrate their individuality.
Students need to develop
learning power
and increasingly be helped to design and evaluate their own tasks and to always consider what went well and they might do differently next time. As a result of their learning students will be able to articulate, select from, and use independently, a range of general or particular strategies, including using ICT.
The curriculum needs to 'emerge', or be designed
, from the concerns of the students, their environment and the 'big ideas' they need to be exposed to so as develop their sensitivities to be good citizens, to develop an sense of place and 'kiwi' identity, and to uncover what ever talents they might have. Environmental awareness and observation needs to be an important element, contributing to student's language development, science and art. Tasks selected for study should be rich, real, relevant and rigorous. Students should do
fewer things well
and in the process develop an
understanding of quality and personal excellence.
Focus on uncovering students a talent underpins all the activities of the class; all
learning needs to be personalized
. The curriculum needs to designed around the needs of the student and not vice versa – every learner needs an individual learning plan, designed in co-ordination with themselves and their parents.
The role of the teachers is to negotiate organizations to allow students to focus on their learning and to come alongside learners to design learning tasks, discuss possibilities and where necessary giving necessary feedback or support, but always leaving the sense of control in the learner's hands. Student's assessment is based on what they can do, demonstrate or perform using criteria they have helped negotiate for themselves.
The teacher is a creative learning coach
.
The classroom walls, student's book work, and files on the computers or the school website, should
celebrate student creativity
and, as well, should be presented with a sense of design so that it informs not only the students but visitors as well. Focused headings, key questions and explanatory information, along with student work, are valuable.
When all the above are into practice, in whatever combination, then quality teaching and learning is in place. I am afraid though, that too many imposed teacher or Ministry ideas, with their genesis in the mass production industrial era, get in the way.
Creative teaching and learning was never easy but, as we enter a post industrial era,
creativity and diversity is a better strategy
than the current standardization, compliance and conformity.