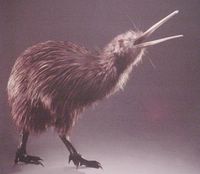 Schools to develop a NZ identity.

I have little holiday job to help a school draft out what it stands for.
This shouldn't be a difficult task because having visited the school to see it in action it will just be a matter of selecting ideas from their current documentation, reflecting on what I observed, and then crafting these ideas into a simple new vision and beliefs document.
Ironically the best description of the particular 'schools way' is written up in their excellent Education Review Report. It just goes to show that if a school is demonstrating excellent teaching across all classes it will not be 'punished' by ERO – thankfully they are no longer focusing on compliance and are looking for evidence of quality teaching and learning.
The key to success of course is demonstrating quality teaching and learning. It may be easier for some schools that haven't developed a sense of shared philosophy to stick to compliance, clear folders and endless graphs!
The secret of the school I am working with is its principal – he won't mind me saying he is of an age that complying to imposed requirements is not an issue to him; he only wants to create an environment based on positive relationships that expects the best from both the staff and students. Simple stuff but too often lost in the guilt felt by many principals if they do not do what they think others expect them to do!
So what does your school stand for?
Can your teachers, their students and the wider community express such ideas?
Why don't you ask them - it ought to part of your School Review!
It is worth having a go at trying to document your ideas on one page.
Michael Fullan writes
that schools have 'six years (or eight) to have a conversation with their parents'. If parents haven't got the message of what your school stands for by then you have been focusing on the wrong things. He also says that it all depends on the 'power of three' – teachers, parents and students working together.
The school I am working with has 'customized' elements of the
Te Ara vision
available on the
Leading and Learning website
.
Defining what your school stands for is a good way to start.