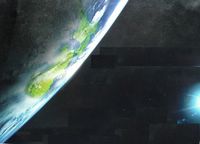 The edge of great possibilities

I am about to rush off to run a couple of days on school vision and quality teaching.
I have just received, by e-mail, an outline of a leadership course to be held in California based on the ideas of leadership 'gurus' Jim Kouznes and Barry Posner. Their leadership model outlines Five Practices of Exemplary Leadership and is one I make use of.
So before I go I thought I would share them. The next decade holds tremendous leadership opportunities for those with the courage to act and not to simply comply with imposed solutions devised with mindsets firmly locked in the wrong century!
1. Model the way – align your actions with shared values. But first you have to find you voice by clarifying what you value.
2. Inspire a shared vision – by imagining exciting and enabling possibilities. Enlist others in a common vision by appealing to shared aspirations.
3. Challenge the process .Search for innovative ways to change, grow and improve. Experiment by taking risks and generating small wins and learning from mistakes.
4. Enable others to act. Foster collaboration by promoting collaborative goals and building trust. Strengthen other by power sharing.
5. Encourage the heart. Recognize contributions by showing appreciation for individual excellence. Celebrate the values and victories by generating a spirit of community.
All valuable advice for school leaders; their are great possibilities are available with those with the courage to act.
For more info.
Also see
Tom Peters
.
Now to catch my plane!