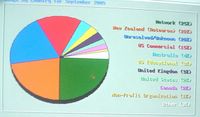 Best month for our site

If you have a website you can get endless data about its usage.
I guess it is what the Ministry of Education would call 'evidence based' learning but in all honesty most of the data is data for its own sake.
Most organization keep data on a few important issues rather than getting carried away with measuring so much they can't tell the wood for the trees.
For us the best feedback is when people actually tell us they have found ideas posted on our site of value to them- and we can tell which articles are most often downloaded. The most popular by far – about 40% are the quotes on our site. If you put '
Educational quotes'
into 'google' our site comes in the first few! This probably explains it. All the rest of our articles get an even share of visits – less than 1% each.
Other popular postings are the
Fullan newsletter
; the
Te Ara Vision
; the
School Strategy
and then scores of others that get less than 1%.
Anyway during September an average of 2454 'hits' each day and these translate to an average of 450 visits per day which is pretty good. Over the month this amounts to over 13000 visits.
Our most frequent visitors come from NZ at 22%. Now and then we send out an e-zine to tell members of a new posted
newsletter and this e-zine
now goes out to about 3400 people, once again mainly to New Zealanders but increasingly worldwide. It must be the biggest educational e-zine in NZ. Other countries that visited this month were ; Australia 4%; USA 5%; UK 3%; Canada 2% and the remainder unknown and to all sorts of countries. The countries that find our way to our site is amazing.
Thought you would be interested.
About as exciting as many school achievement graphs